For today's savvy travelers, a state-of-the-art hotel gym is just as important as cozy rooms and world-class customer service. Studies show that consumer interest in health, wellness, and fitness continues to rise as more people are prioritizing and incorporating healthy eating and exercise into their day-to-day lifestyles.
And according to a survey conducted by Lodging Magazine and Travel Pulse, they are unwilling to break their routines while traveling. 46 percent of respondents stated they planned to use the hotel gym at some point during their stay. In addition to this, 48 percent of respondents ranked wellness as very important when deciding to book a hotel for business travel.
Your hotel's ability to attract travelers depends on whether you can meet their needs. A fitness center or hotel gym fully stocked with the equipment guests need to remain and feel their best can serve as a competitive edge and help increase bookings. In fact, hotels or lodging facilities with fitness centers are one of the top reasons why travelers choose hotels over Airbnbs and vacation rentals overall. Industry experts also confirm that a hotel gym is what can set hotels apart, along with stellar service and personalization.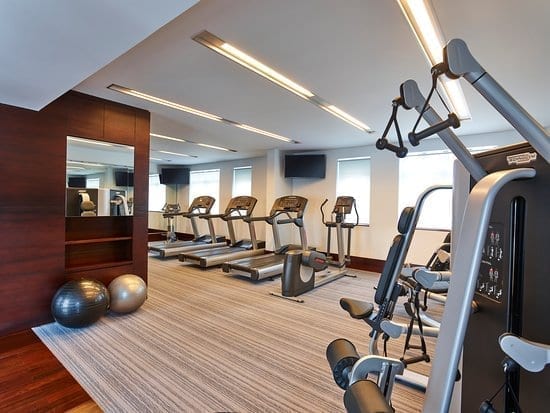 CARING FOR YOUR HOTEL GYM: THE COMPLETE GUIDE
Handling your hotel gym's upkeep can seem overwhelming, but it doesn't have to be. 2XL has created this helpful, 7-step guide to make hotel gym maintenance simple and easy for you and your employees. Using it can ensure your guests have a satisfactory workout and experience. Learn how to disinfect equipment, when to schedule maintenance and repairs, and other helpful tips by reading below. 
1. GET EQUIPMENT SERVICED AND INSPECTED REGULARLY
If you're aiming to impress guests with your hotel gym, making sure all of the equipment is in service and functioning properly is of the utmost importance. Out-of-order gym equipment is one of the top complaints from guests who visit fitness centers in hotels.
Avoid disappointing your guests by scheduling inspections, maintenance, and repairs for equipment regularly. Doing this can also save you money in the long-run, as maintaining your equipment can extend the life of them, allowing you to hold off on ordering big-ticket items longer.  Try to have equipment inspected or serviced once a quarter.
2. CLEAN EQUIPMENT ONCE A WEEK
Since dozens of people are working out in your hotel gym each week, chances are they are leaving all kinds of residue on equipment. Sweat, body oils, odor, dirt and other forms of grime are commonly left behind after workouts, remaining on treadmills, benches, weights, and mats. Dirty equipment is a clear sign of neglect and facility hygiene, two factors guaranteed to be a major turn off to new guests.
To keep your hotel gym in tip-top shape, add wiping down equipment at least once a week to your facility's cleaning schedule. You can use a general cleaning gym wipe or simply wet a microfiber cloth with water. Consider purchasing gym wipes to allow guests to help keep equipment clean. Regular cleaning also neutralizes odors and keeps machines from rusting.
3. SANITIZE AND DISINFECT TO KILL BACTERIA
Each time someone uses your equipment for a workout, they leave germs and bacteria behind. It's no secret that gyms are crawling with germs. In fact, when Fitrated gathered bacteria samples from 27 different pieces of equipment at three different gyms, they found more than 1 million colony-forming units dwelling on the surfaces.
The most common gym germs that cause infection are Athlete's Foot, Staph, ringworm, and MRSA – all of which can only be killed with an EPA registered disinfectant. To protect your guests from a nasty infection, make sure you're prioritizing sanitizing and disinfecting to remove harmful germs that can cause sickness.
4. STAY AWAY FROM CLEANING PRODUCTS THAT HAVE AMMONIA, BLEACH, HYDROGEN PEROXIDE, PHENOLS OR ALCOHOL
Not all products are good for your hotel gym equipment. Ammonia, bleach, hydrogen peroxide, phenols, and alcohol are commonly found in wipes and mixed solutions but steer clear of them. These chemicals will damage your equipment by causing rust, discoloration, and corrosion. Products that do contain these ingredients tend to be cheap and affordable, but they will cost you in the long run. When your equipment begins to deteriorate you'll need to tap into your budget much sooner to replace them. QUAT based cleaning, sanitizing and disinfectant wipes tend to be the best option since they don't contain any of the chemicals mentioned. 


5. DON'T USE ABRASIVE CLEANING MATERIALS
The texture of the materials you use to clean your hotel gym equipment matter, too. Metal brushes, steel pads, and other rough cleaning tools damage your equipment by leaving visible scratches, scrapes, and tears. Sure they'll remove grime and build up, but their excessive roughness will ruin your equipment. This will leave surfaces looking worn down, which can also repel guests and leave a bad impression. It's recommended that you use wet wipes or microfiber cloths to remove grime and germs from your fitness equipment.
6. REVIEW AND REFER TO EQUIPMENT MANUALS 
When it comes to learning how to care for and how to maintain your hotel gym equipment, your first resource should be the equipment manual. Equipment manuals will give you all of the information you need to know to keep your machine functioning properly. In them, you will find plainly stated do's and don'ts, when service and repairs are needed, signs of deterioration or problems, and more. Contact information for support is also included so you can reach out to the manufacturer directly to express concerns or problems and ask questions. 
7. CREATE A CHECKLIST AND SCHEDULE 
The final thing you should do to keep your hotel gym well-maintained is to create a cleaning checklist and schedule. Both you and your employees can use it to keep track of when equipment and surfaces have been cleaned, the last time they were serviced, and other tasks along with the dates and times they were done. It can also be used as a way to ensure your fitness center is being prioritized and is in compliance with standards. 
A WELL MAINTAINED HOTEL GYM = HAPPY GUESTS 
Following this guide will not only keep your hotel gym clean and equipment and machinery in service, but it will also make guests happy – which is what matters most. The last thing you want to do is disappoint your health-oriented guests with a poorly maintained gym that won't allow them to keep up with their active lifestyle and fitness goals. It's better to be proactive by keeping equipment clean, sanitized and disinfected, in good condition, and working before disaster strikes. Using these helpful tips will make your life easier and keep your hotel gym in tip-top shape.