A dirty gym is the last thing you want your fitness center to be known as. Imagine checking your gym's Google business page, Facebook account, or company website and reading these scathing reviews:
"I can definitely understand why the overall review score is so low. The gym is dirty, carpet smells, no amenities in the restrooms, the equipment is broken and they can't even refill the paper dispensers so you can wipe down the equipment. I'm surprised California Health inspectors haven't been out here to write them up." 
"I used to like this place, but over the last few years have seen a downhill slide into a general state of dirtiness. The men's showers, in particular, have reached a level of gritty dystopian expressionism not seen outside of a David Lynch movie or that prison television show Oz." 
" As it is, the dirt is caked on the dirt in among the miscellaneous body hair stuck to the sides of the shower stalls. Some have soap in them, some don't. Some have towel hooks, some don't. Some showers spray all over the place, some torture with a single, abusively hard gush simulating your prison-hosing experience. Also beware that the drains on some of these showers have a tendency to back up a mixture of spit, hair, and water after 5 minutes. Just FYI. This is the only shower I've had where I felt dirtier leaving it. Please fix this nightmare."
These are real quotes from reviews left by customers fed up and dissatisfied with dirty gyms. Making sure to keep surfaces, equipment, and machinery clean is the key to keeping reviews like this off your business pages as well as retaining and attracting members.
This should as no surprise since cleanliness is ranked as one of the most important things people care about when choosing a gym or fitness center. According to one study which surveyed participants about the importance of facility cleanliness on deciding to join a gym, the majority of them ranked it as "10" – meaning very important. 
7 WAYS A DIRTY GYM IS BAD FOR BUSINESS
But a dirty gym doesn't just upset customers. It can have far worse consequences such as negatively impacting operations, costing you thousands of dollars in revenue, and destroying your brand reputation. So just how can a dirty gym be bad for business? Keep reading to find out!
A dirty gym can quickly lose current members. 
If members notice surfaces starting to collect dust, grime, and odors, this can be a sign that it's time to cancel their membership. Hundreds of surveyed gym-goers all said that an unclean gym would lose their business in one respected industry survey.  
Letting cleanliness fall by the wayside tells customers you don't care about them. It sends the message that you don't care about their safety, well-being, or experience – only about collecting their payment. Customers may start to wonder about the health and safety status of your facility overall and become curious about what their membership fee is going towards if they can't even get a clean gym to work out at.
And you can be sure that if they do cancel their membership, they'll encourage friends, family, social media followers, and anyone else they know to also cancel their membership or to avoid joining your gym altogether.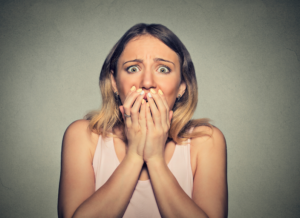 A dirty gym can scare off potential new members. 
People visit your gym for a tour when they are serious about joining. They've probably done their research at this stage and found a few gyms that fit their lifestyle needs – location, cost, amenities, and now, they just want to find out if they actually like the place. 
Seeing a dirty gym will not close the deal. A serious prospect will be turned off by an unclean and unsanitary space. A dirty gym communicates that you don't value cleanliness and hygiene, which shows that you don't care about your clients. No client wants to join a club where they immediately feel unsafe and unvalued. Additionally, Americans associate cleanliness and hygiene with status and morality. If your gym doesn't reflect their values, they will look for one that does.  
Once they spot residue on equipment, smell putrid odors in dirty restrooms, or come across any other signs that your facility isn't being well maintained and doesn't align with their own personal cleanliness values, visitors will make up their minds that your gym isn't the place for them. New members are how your gym grows, so scaring off potential new members won't help you increase business and profits. 

A dirty gym can generate bad online reviews and ruin your business reputation. 
In today's day in age, people are more willing to share their bad or lackluster experiences over the megaphone that is the internet. In fact, studies show people are more likely to post bad reviews than good ones. Our brains are wired to dwell on and dig into bad experiences.
Because of our fixation on problems, your angry customers will be more than happy to share their feelings with anyone who will listen. This leads to big problems for your business, because, as summarized by Reputation Builder, "88% of people trust online reviews as much as they trust their best friends' recommendations".

Also, "80% of people [will choose] to go elsewhere if they read bad reviews of your business online", and, "One negative review online (when not countered by positive reviews) can cost up to 30 new customers." 
The more bad reviews you get, the more irreparable damage. Many people search and read reviews before making a money decision like becoming a member of a gym. A collection of bad reviews can act as a red flag to potential members who would have otherwise been interested in joining your gym. 
A dirty gym can lead to negative brand perception. 
What is your mission statement? What are your brand values? Is there a section that spells out how customers can expect to walk into a dirty gym every time they visit? 
No! That would be ridiculous. But, you can't promise a safe, welcoming, beautiful space and not deliver, either. Members can be understanding but they won't tolerate being lied to or deceived. 
If you're not maintaining a clean facility, like it or not, your gym could easily develop a reputation as being a "dirty gym". When this happens, it reflects poorly not just the facility, but on the entire company/ organization, as well as on the staff and management.
You could develop a poor reputation in the community and online for having a dirty gym or lackluster facility filled with filth and grime instead of being known as a go-to gym for wellness and health-minded people. If the in-person experience is different from what your website and social media portray, people could become wary of your brand.

A dirty gym can make people sick. 
If you're not prioritizing cleaning, sanitizing and disinfecting surfaces and equipment, then thousands of bacteria are more than likely slithering all throughout your gym or fitness center. Since these germs aren't being killed with an FDA approved sanitizer or disinfectant, your members will be at a higher risk of contracting an infection or illness from them. 
Common gym infections include ringworm, MRSA, staph, and more – which are mostly spread from skin-to-surface contact. So when an infected person uses one of your machines and it's not immediately disinfected, the next person to use that machine is at a huge risk of contracting the infection.
The pathogens that cause these illnesses, and others such as norovirus, rhinovirus, and influenza, can live on a surface for up to 24 hours, leaving hundreds of people vulnerable.
When people start to make the connection that your gym is the source of their cold, flu, ringworm, or upset stomach, they will not want to return. And in turn, they will tell others not to return.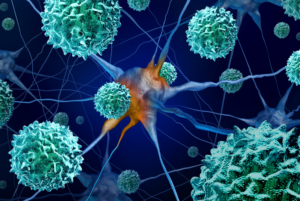 A dirty gym can be traced as the source of disease outbreaks. 
Sometimes, only one person getting sick can be classified as a disease outbreak. When an official outbreak happens, your facility will be shut down and inspected by the public health department. Disease outbreaks are also announced on the news and across social media – all very bad PR. 
In 2017, several LA Fitness clubs in New York and Florida were affected by outbreaks of  Legionnaires Disease, where the pool and spa areas were shut down for decontamination and weren't allowed to reopen until passing through rigorous inspections. And while this stopped a lot of clients from using these facilities, many more surely opted to skip the gym altogether to avoid the risk of infection.
Disease outbreaks tend to happen when regular cleaning standards and protocols are not in place, or existing cleaning protocols are not being followed. An outbreak can lose the trust of your members and your community. It takes much less time to properly clean and disinfect your gym than it does to convince the public that your gym is no longer unsafe after a reported outbreak. 
A dirty gym can lead to equipment malfunctions. 
Cleaning your equipment is an important part of maintenance and keeping machines functioning properly. You invest in the best, most modern, high-tech machines that your budget allows for. But if you aren't cleaning your equipment properly, throwing money away. 
Failing to remove dust from treadmills can create safety issues and performance problems as dust builds up under the belt and damages it.  When dirt builds up on touch screens, delayed responses or malfunctions are common. When grime isn't removed from benches and weights they can rust. When yoga mats and exercise mats aren't cleaned they develop unpleasant odors. These are all red flags to your clients that something isn't right – but it's also a huge waste of money as you'll need to replace expensive equipment more often.  
Properly cleaning, sanitizing and disinfecting equipment and surfaces can prevent this from happening. Be sure to clean with wipes that don't contain alcohol, hydrogen peroxide, bleach, or ammonia, as these chemicals can damage your expensive equipment by causing corrosion, discoloration, deterioration, and more.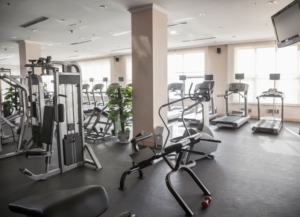 KEEPING YOUR GYM CLEAN HAS REWARDS
Keeping members and employees safe, extending the life of expensive equipment, and even protecting your own professional reputation are all positive outcomes of maintaining a clean gym. Ultimately, while members are in your gym, their safety should be your absolute priority. Investing in cleaning products and services is just as important as investing in top of the line gym equipment. Keeping your facility clean will reward you in many ways, including keeping you in business.