Out of the thousands of business and facility managers we've worked with, we have yet to come across one that likes to waste money. If anything, this is one of the main things avoid. The last thing you want is to spend precious budget dollars on something that doesn't yield a return on investment and isn't worth it.


Overspending for cleaning supplies tends to be an area where most facilities rack up an expensive tab. There are several reasons for this problem. One is because many of them have multiple products that they are constantly buying in bulk which drives up spending in the long-term. Another is because they are purchasing cheap products that don't last long or truly meet their needs.
2XL is here to keep you from throwing money down the drain on ineffective and costly cleaning products. We've helped thousands of our customers save money and cut unnecessary spending. Here are 5 ways that we can help you save money on cleaning costs, too!



THE COST OF CLOTHS, TOWELS, AND SPRAY BOTTLES ADD UP – 2XL WIPES CAN BE CHEAPER THAN ALL OF THEM COMBINED.
It's a common misconception that wipes cost more than spray bottles and towels. However, that's not entirely accurate. Over time, the price of purchasing, replacing and maintaining the cloths, towels, and spray bottles can add up.
In fact, managing this system can cost nearly triple the amount that you would pay for a 700 count roll of 2XL GymWipes. And when you break down the actual costs associated with maintaining the towels and spray bottles, it becomes clear why:
Running washing machines and dryers to keep towels clean and sanitary increases energy costs. You're also paying employees for the time that they spend cleaning, folding, and restocking supplies. If you use a laundering agency instead, your business is still incurring a big cost to your bottom line and budget. Lastly, most laundering agencies tend to increase their rates by 10% or more each year which, in turn, will increase your costs by 10% or more each year. 
Using special machines to sanitize spray bottles also drives up energy consumption costs and requires an investment in the purchase and maintenance of the machine. 
Maintaining spray bottles can also increase labor costs. You must factor in wages paid to employees who spend time cleaning, refilling, and restocking these bottles. In addition to this, your employees must also follow strict labeling and storage regulations required for bottled chemicals. Ultimately, your employees' time can be better spent doing something more productive.
Towel costs can skyrocket since they regularly get lost, are accidentally taken by members, or are damaged and need to be replaced. Constantly spending money to replace towels can drain your budget slowly but surely. 

BUYING DOZENS OF SMALLER CANISTERS COST MORE IN THE LONG RUN – OUR BULK ROLLS COST LESS. 
Most business and facility managers have strict monthly budgets that only allow for so many purchases and expenditures. Because of this, ordering larger, bulk orders can seem intimidating.
Oftentimes the price is a bit higher and some worry if the high quantity is necessary. You may think you're saving by constantly reordering smaller canisters each month, but that couldn't be further from the truth.

If you do the math, ordering larger, bulk quantity wipes not only saves you money, but it also saves you loads of time and effort. Larger containers of wipes last longer and can reserve budget dollars: 
Most canisters have only 80 wipes per canister but 2XL wipes come in options of 700 count bulk rolls and higher. 
Buying individual rolls can seem like a cheaper option at first, but when you calculate the per-wipe cost, your true spending becomes much clearer. 
Wipe containers can be wasteful if you're going through hundreds of canisters that aren't made from recyclable or biodegradable materials. Your business can impress savvy customers with your dedication to leaving a positive environmental impact when you switch to ordering bulk containers of cleaning wipes. 
2XL's buckets are reusable meaning you'll only need to purchase refill wipes and not have to worry about recycling canisters. Since 2XL refill rolls have a higher count than standard wipe rolls, you'll spend less money and you won't have to order as often. 
To find out how much you can save by switching to bigger roles – check out the 2XL "Bigger Rolls = Bigger Savings" calculator. Click here or scroll down our homepage to find it.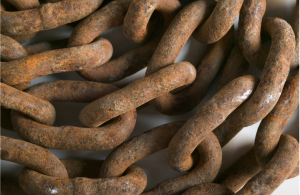 2XL WIPES PRESERVE AND PROTECT YOUR EQUIPMENT, MEANING YOU WON'T WASTE MONEY BY HAVING TO REPLACE DAMAGED AND CORRODED EQUIPMENT. 
It's amazing how many facility managers and business owners don't know the severe effects of using alcohol, bleach, ammonia, and phenols to clean their equipment. These chemicals are not only dangerous, but they cause irreversible damage such as discoloration, rusting, fading, corrosion, and oxidation.
When this happens, you'll be forced to purchase a new machine or equipment altogether, which can be an unexpected expense. Just think of having to throw away a slightly damaged but still functional treadmill or examing table. You probably winced or cringed while reading that sentence. 
Major equipment manufacturers such as Precor, Cybex, and Life Fitness endorse 2XL wipes as they've been proven to protect and preserve the life of your valuable equipment. Our wipes are made from a non-hazardous, non-toxic, multi-surface compatible QUAT formula that will not damage any surface – including glass, steel, and aluminum.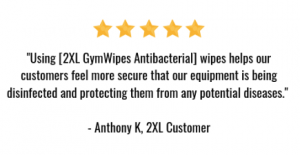 GETTING SICK COSTS YOU MONEY. WE PREVENT THAT FROM HAPPENING, PROTECTING CUSTOMERS AND YOUR BOTTOM LINE. 
When your employees or customers vendors get sick, it costs you money and impacts your budget. In fact, the Bureau of Labor Statistics reports that roughly 4.2 million workers in January 2018 missed work due to an illness, injury or medical problem.
The Integrated Benefits Institute reports that U.S. workplace illnesses cost $576 billion annually. Of that amount, $227 billion is considered "lost productivity" from employee absenteeism due to illness or what researchers called "presenteeism". "Presenteeism" is when employees report to work but illness keeps them from performing at their best.
And it's not just sick employees you have to worry about. When customers visit your facility, they are bringing a host of germs and pathogens with them. They're also at risk of contracting an illness that could already be in your facility.
If this happens, your facility may have to shut down for deep cleaning as required by local health departments. The incident can even be reported by the C.D.C. All of this can bring unwanted media attention and bad press, which could damage your reputation.
Thankfully, 2XL disinfecting wipes kill up to 49 pathogens to eliminate more than 4 dozen infections and illnesses, including influenza, 2019-nCoV (novel coronavirus) MRSA, rhinovirus (the common cold), listeria, E.coli and many more. Our wipes are designed to keep your staff, your guests, your reputation, and your budget, safe.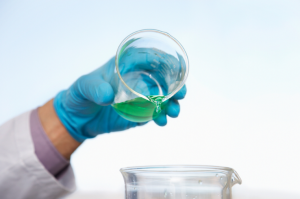 IF YOU'RE USING LIQUID SANITIZERS AND DISINFECTANTS, BUT AREN'T MIXING THEM PROPERLY YOU COULD BE WASTING YOUR MONEY ALTOGETHER
For liquid sanitizers and disinfectants to be effective, they must be used properly. You'll need to measure and mix them per the manufacturers' instructions. Most people don't take the time to read and follow these instructions step-by-step, which is dangerous and ineffective.
Not following the exact instructions can result in wasting money if your employees aren't measuring the right amount of water and chemical, because if the sanitizers aren't concentrated in the correct amount, they won't be able to sanitize or disinfect surfaces, which means germs will be spreading in your facility.
Luckily,  you can avoid this common issue altogether. 2XL sanitizing and disinfectant wipes don't require any mixing. Simply wipe the surface, let the formula sit for the recommended dwell time, and voila! You have a properly sanitized surface thanks to a safe and effective cleaning formula that didn't require any mixing.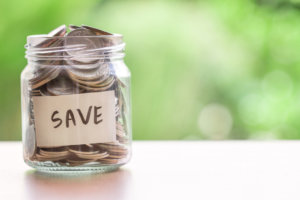 WHY WASTE MONEY BY NOT USING 2XL WIPES? 
 If you can save money without sacrificing quality, why not? As a manager, the last thing you want to do is waste funds or spend frivolously on ineffective products. 
2XL wipes allow you to eliminate unnecessary spending while providing you with a quality product that meets your safety, convenience, and efficiency needs. Our wipes give you a cleaner, safer business while saving you time and money in the process. Not to mention the peace of mind you'll gain from knowing your facility is germ-free. 
Are you ready to give 2XL wipes a try for yourself? 
Call (888) 977-3726 or contact our Sales Director Dave O'Rourke at daveo@2xlpro.com 
Learn more about why our wipes are the best in the game by reading this post.