' Tis the season for spring cleaning! At last, spring is here. With it comes longer, sunnier days, warm weather and an optimistic fresh feeling in the air. 
With winter officially over and strict shelter in place orders in effect, now is the perfect time to deep clean your facility to freshen up surfaces and equipment for a new season of customers and guests.
Thin layers of dust might be coating shelves and tables. Fingerprints may be covering counters and electronics. Dirt and filth are likely caked up in nooks and crannies. Illness-causing germs are probably lingering on shared high-touch surfaces. Smelly odors are emanating from worn carpet, furniture, and curtains.
These are just a few reasons why you should be planning to deep clean your facility for spring. Why else should you prioritize a thorough scrub-down of your business? Keep reading to find out!
1. FULLY ERADICATE LINGERING PATHOGENS THAT CAN CAUSE SICKNESS 
Over the 2019-2020 winter months, several contagious diseases ran rampant, sickening thousands of people across the globe. The Center for Disease Control estimates that there have been more than 32,000 cases of the flu this season. The newest outbreak, coronavirus (COVID-19), has caused widespread panic, travel bans, and an entire economic shutdown.
Also, RSV outbreaks caused an above-average impact across the United States, impacting daycares, schools, and nursing homes especially. Lastly, norovirus infected several cruise ships. One was even denied entry to a planned port because of the viral outbreak on board. 
The worst part is that many of these pathogens can survive on surfaces for days, weeks even. The flu virus can survive for up to 12 days on a surface unless it's killed. Norovirus can potentially survive for weeks on a surface, and although research is still being conducted, coronavirus has been shown to survive for up to 9 days on some surfaces. If these germs aren't effectively eradicated in your facility, they can potentially get your customers very sick – which is the last thing you want.
With so many illnesses spreading at such a rapid pace, you'll want to make sure these microorganisms are eliminated by deep cleaning your entire facility from top to bottom. Use an EPA registered disinfectant to clean everything that has been touched.
This includes high-touch and low-touch surfaces such as windows, coffee pot handles, gym equipment, desks, counters, doorknobs and handles, and more. Be sure to read the kill claims to make sure the product you're using kills the pathogens you want to eliminate. To find out how to kill coronavirus on hard surfaces, read our 5 step guide.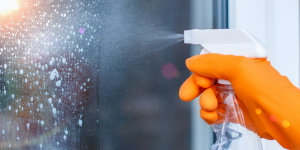 2. MAINTAIN YOUR FACILITY'S APPEARANCE 
It's no secret that presentation is everything, especially in business. Visitors and guests are not shy about their high standards for businesses and facilities, either. When surveyed about the importance of cleanliness to them, 84% of travelers said that it ranks as one of the most important factors. Case in point: if your business looks as though it lacks upkeep such as having visible dust, dirt, and filth, you will lose their business. 
Ultimately, filth and grime directly impact your reputation, your revenue, and your success. It's important to have a system to keep everything shining and looking new, such as a cleaning plan or schedule. When you take care of your facility, it shows. Windows are spotless, surfaces and equipment look safe, well maintained, and inviting, and floors are sparkling. 
Customers and guests will notice this and appreciate it. As a result, they will be more likely to generate repeat business and even referrals. To make spring cleaning easier, consider downloading our room-by-room spring cleaning checklist. Remember, a clean facility equals happy customers.
3. KEEP EQUIPMENT AND DEVICES WORKING PROPERLY

When dirt, soil, and dust build-up on machines, devices, and equipment it can create malfunctions. Signs of this can include overheating, slowed or delayed performance, and electric systems can short circuit. In addition to this, touchpads and touchscreens can become cloudy and stop working or cause latency.
Keyboard buttons are also known to get stuck and treadmill belts become noisy. Routine cleaning is important to keep all equipment functioning properly and to avoid costly repairs, breakdowns, or having to replace the equipment altogether.
However, there are chemicals you should never use to clean your equipment because they can cause deterioration such as cracking, corrosion, discoloration, and other forms of damage. Also, you should avoid using abrasive cleaning materials such as brushes, scouring pads because they can scratch surfaces.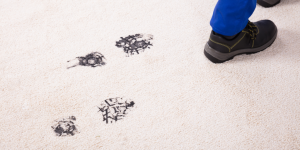 4. REMOVE VISIBLE DUST, DIRT, AND STAINS

It's natural for the objects, surfaces, windows, carpets and other items in your facility to get dirty over time. This can happen as a result of frequent use or infrequent use. Items that are touched or experience more direct contact than others tend to accumulate dirt, fingerprints, germs, and even stains whereas items or areas that aren't used as often tend to collect dust.
Examples of high-touch surfaces include check-in or registration desks, elevator buttons, doorknobs and handles, touchscreens and phones. Low-touch surfaces can include windows and lighting fixtures. Even if you are making sure to wipe high-touch surfaces daily, don't forget crevices, nooks, and crannies that are known to collect gunk over time. This can include the corners of windows, corners, behind doors, behind computer monitors, and other places.
While you're spring cleaning, make sure everything gets a fresh polishing up, including the items that don't get much cleaning love often.
5. ELIMINATE ODORS 
Similar to dust and gunk, odors can build up, too. What can cause a foul stench in your facility? Dirty carpet, sweaty gym equipment, bodily fluids (vomit, feces, urine, blood, etc.), garbage, clogged or dirty drains, and food. People who visit your facility can be responsible for weird smells in the air as well. Considering that scent plays an important part in the perception of your facility, you'll want to eliminate stinky, foul odors that can wrinkle your customer's noses. 
Eliminate odors with spring cleaning by using lightly scented cleaning, sanitizing and disinfectant products that are proven to remove stinky smells. Make sure the scent of the cleaning product doesn't trigger allergies or isn't too overwhelming. To remove odors from carpeting, curtains, and furniture, you'll need to get them steam cleaned.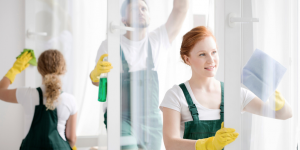 SPRING CLEANING IS NECESSARY FOR FACILITY MAINTENANCE

As a business owner or facility manager, you should already be making cleanliness a priority by cleaning weekly and following a comprehensive cleaning schedule. But if you're not, spring is the perfect time to get started!

To make the results of your spring cleaning last longer, continue to deep clean at least once a quarter. This would be a more intense cleaning than what your daily and weekly cleaning lists would cover. Doing this allows you to focus on surfaces that are easily overlooked and not cared for regularly. 
Simplify your spring deep cleaning by investing in all-in-one products that will complete multiple tasks. For example, an EPA-registered disinfectant that removes grime, neutralizes odors, and kills germs will save you time and money as you polish up surfaces and equipment. 
Spring brings light and warmth back to the world. Align your cleaning plan to reflect some of that spring energy into your facility and be prepared to feel even more proud and excited about your wonderful business. Happy Spring Cleaning!